The Credit Union National Association (CUNA) recently hosted their annual Governmental Affairs Conference (GAC) in Washington, D.C.
Focusing on the impact that policymakers have on credit unions and their members, the GAC brings together world-class speakers from the worlds of business and politics, while also spotlighting some of the most innovative credit union solutions available today.
So naturally, we sent four of our most passionate finserv specialists—Laurie Flanders, Jessie Baderschneider, Josh Apsey, and Phillip Pinero—to the 2023 CUNA GAC, which ran from February 28 to March 2, 2023. At the conference, they were able to spotlight our advanced credit union member experience management platform and swap pearls of wisdom with other industry experts.
As you might expect for an event held in our nation's capital, there were a lot of political heavyweights headlining the conference, including political strategist Karl Rove, Ohio Senator Sherrod Brown, and former U.S. Secretary of State Condoleezza Rice.
However, most of the biggest industry insights came from the smaller breakout sessions lead by credit union professionals. Here are some of the key takeaways we left the 2023 CUNA GAC with:
1. Credit unions need to prepare for an uncertain future—not panic
CUNA President Jim Nussle kicked off the conference in a cowboy hat and Carhart jacket, imitating the look of Kevin Costner's cattle rancher character on the popular television series Yellowstone.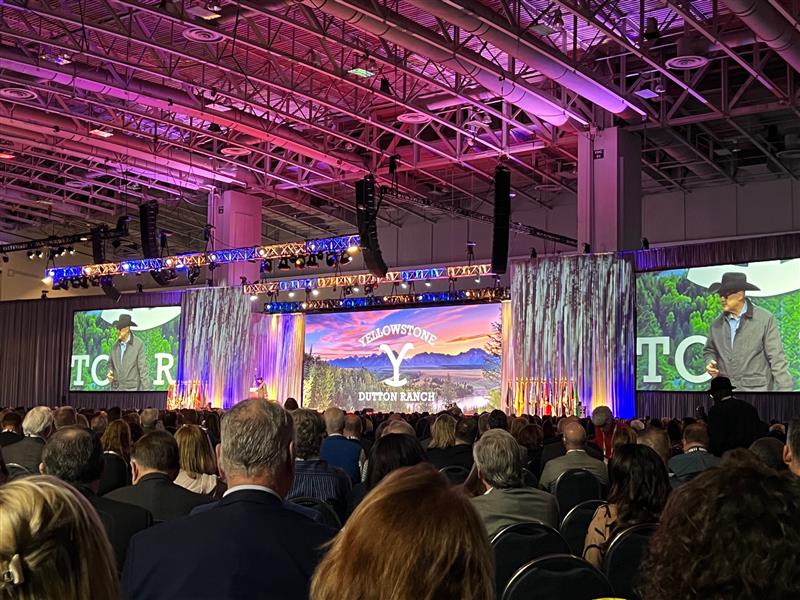 Nussle donned the rancher outfit in order to pose a simple question—does the credit union industry have wolves coming down the hill?
"Yes," he warned. "But we have all the tools to future-proof our movement."
With a looming recession on the horizon, Nussle was focused on credit union industry's traditional role as consumer protectors.
"We are and have always been the original consumer protectors, and that will never change," Nussle said during his speech. "Consumers that don't use credit unions are two times more likely to not have emergency savings."
This theme continued in a later keynote address delivered by Rodney Hood, Eleventh Chairman and Current Board Member for the NCUA. He argued that in order to continue looking out for themselves and their members, credit unions should be wary of the next economic downturn, but resist the urge to panic.
"This is not the same as the last financial crisis," cautioned Hood. "Even though we may be facing a recession, my advice to credit unions is stay calm, stay alert, and be prepared."
2. Credit unions are still struggling to connect with a younger, more diverse audience
While great strides have been made over the last decade, credit unions still have a long way to go when it comes to diversity, equity and inclusion.
The vast majority of credit union employees below the executive level are women, yet credit union executives are still overwhelmingly male.
This disparity was one of the focuses of a breakout session titled "DEI Progress & Our Future," which looked at the progress that's been made in the five years since DEI became the Eighth Cooperative Principle for America's credit unions—and how much more needs to be done.
Speaker Monica Belz, President and CEO of Kaua'i Federal CU, noted that credit union leaders set the culture, and there is a big wave of succession coming in the near future. The next group of leaders will be chosen by the board, meaning board membership is key towards selecting younger, more diverse leaders.
When Monica asked whether any credit union's board had at least one millennial member, only a single hand raised. That lone hand did a good job of underscoring her point: there need to be more millennials in these positions.
3. Cryptocurrency could be a way of attracting younger members
Speaking of the "generation gap," a breakout session titled "Credit Unions' Role in the Cryptocurrency Evolution" positioned crypto as a way to appeal to younger investors.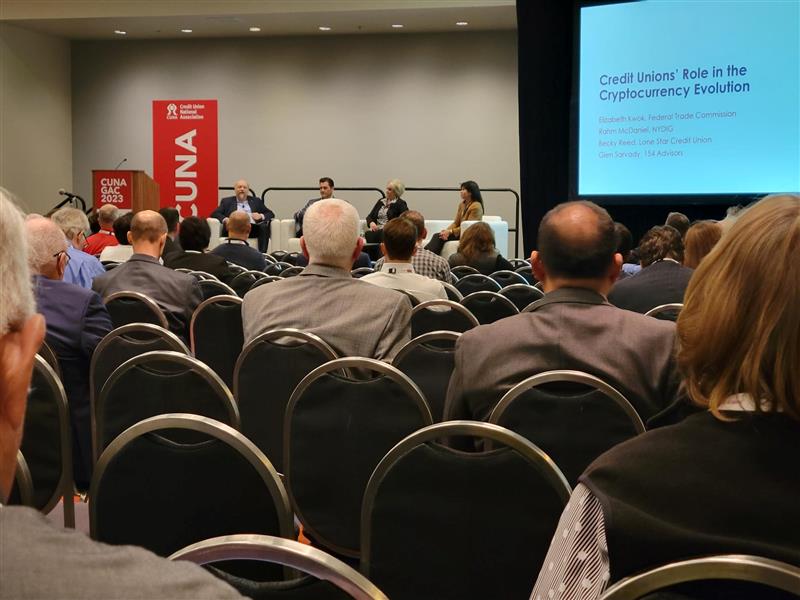 The speakers argued that recent scandals and crypto frauds have illustrated the need for more sober-minded actors in the crypto space. Credit unions, with their commitment to financial well-being, are poised to provide a more responsible entry point for members to this emerging industry.
Additionally, cryptocurrency's youthful appeal can help credit unions attract more millennial and Gen Z members.
One practical suggestion from the breakout session: credit unions can offer a digital wallet service to their members as a unique value add.


Hey there, got everything you need?
Looking for something better? You've come to the right place! Spend 15 minutes with us and we'll show you why.
Don't take our word for it!
Sure, we've got an amazing platform. But we get it, you need to see for yourself. So check it out – on us! No cost, no risk.
4. Cannabis banking is a gap that the credit union industry can fill
Another way that credit unions can attach themselves to an emerging industry, appeal to younger and more diverse members, and cater to a historically underserved group? Cannabis banking.
While medicinal and/or recreational cannabis is now legal in over 30 states, it remains illegal at the federal level. As a result, many banks are uncomfortable opening accounts for players in the cannabis industry, who are stuck with piles of cash they have no place to bank.
But credit unions can pivot faster than banks in highly regulated spaces like cannabis banking. And by opening their doors/accounts to businesses in this "growth" industry, credit unions can generate more revenue, stay ahead of the curve, and also serve a largely young, underserved community.
These are just a few of the top takeaways we had after a fun and exciting GAC. If you missed out on this event, we'd still love to chat! Just request a demo to get some time on the calendar to learn how Sogolytics can help you enhance the member experience.