Having fireside chats with the people behind the brand has been a remarkable experience here at Sogolytics, and we're excited to now sit down with the person who plays a key role in building our future success. Recruitment Specialist Phillip Pinero is at the core of candidate experiences here at Sogolytics, and strives to continually build a diverse, inclusive, and innovative team recruiting for multiple job titles.
Phil has a long history of working in recruitment and HR from his time as a recruiter for the U.S. Army in 2005, before going on to a private management company for fourteen years. "I wanted an industry shift and what really attracted me to Sogo was the human element," he explains. "Our leadership team wants you not only to develop personally but professionally, and it really captivated my attention."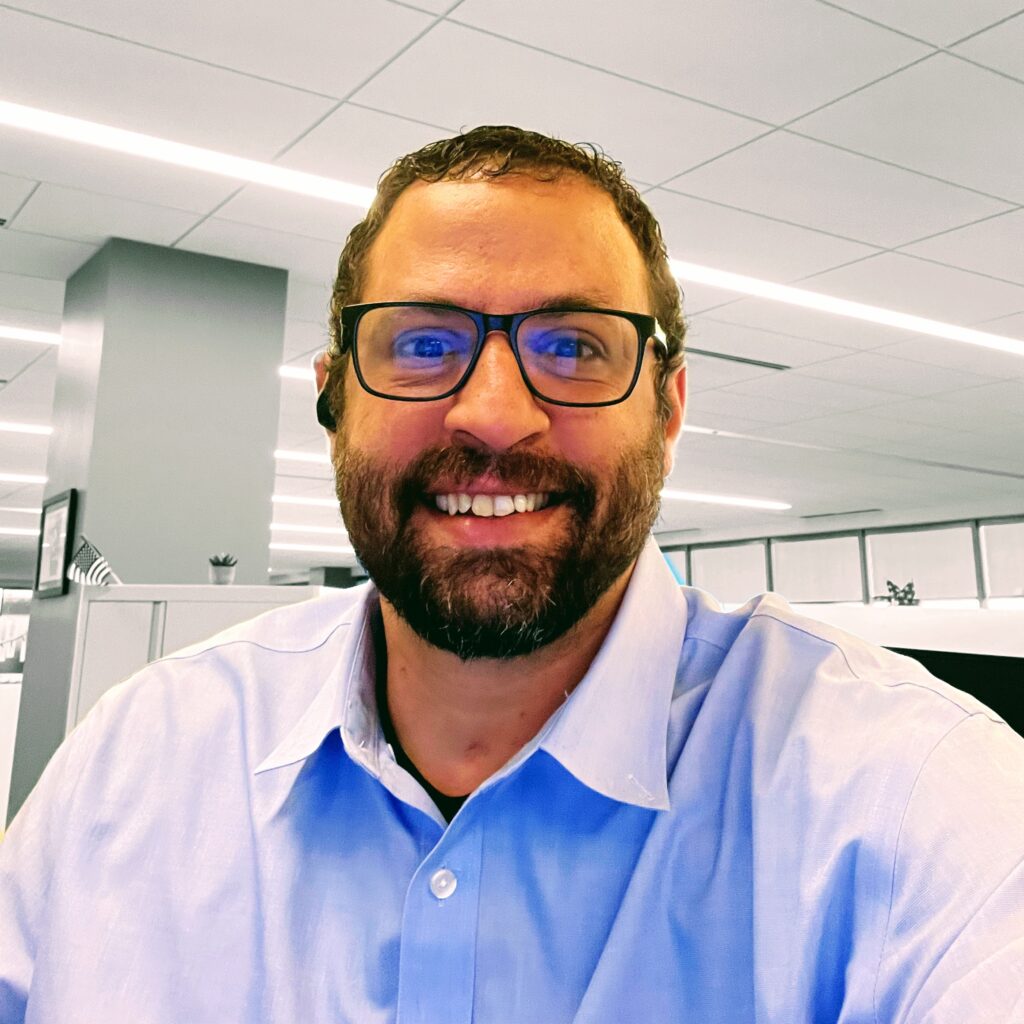 Defining Experiences
Here at Sogolytics, we believe in delivering exceptional experiences and connecting with feedback in ways that drive transformative change. Phil approaches recruitment in the same way. "I'm strategic, ensuring I'm as transparent and responsive as possible," Phil goes on to add. "We're collaborative here, everyone working together, and we believe in everyone's success. I want to be the same way for my candidates, in their corner from the first communication."
Phil remembers his own hiring process for Sogo, recalling, "Everybody I spoke to was honest and sincere, they were clear on the needs and what would be the driving force behind my position." Phil keeps that same philosophy as our Recruitment Specialist. "We can't hire everyone we speak to, as much as I'd love to, but I still want to make sure they walk away with a positive outlook from interactions with me."
Focusing on the Candidates
When asked what sort of candidates he's looking to bring into Sogo, Phil shared his views. "They need to be customer-centric and focused on seeing the big picture. Our clients are important to us, and we strive to not only identify their pain points, but also provide the solutions they need." We're looking for candidates with drive and ambition, but who also clearly care, can communicate effectively, and love learning.
For Phil, it's about more than matching an applicant to their job responsibilities, it's also about considering the needs of both the company and the candidate. "A great match is when I see that we can develop professionally and grow business, together." In fact, Phil likes to advise candidates to not be "gatekeeps of themselves", but trying to stretch their professional horizons instead. If you think you're a good fit for our team, "match for 70% of the job responsibilities, you can connect, and are successful in your current position," then apply. In his own position, Phil uses the Sogo platform to help him keep track of data and learn from candidates' experiences.
"We just came out of intense training with our VP of Success, and I really love how we're always doing more. Candidates can look forward to that with us, as well." No matter what, Phil believes "if [he] can nail down some areas for [his] own personal improvement to create a better experience for each candidate and our process, it will pay dividends in the future."
Growing Together
"Sogolytics is a rapidly growing company," Phil adds. "As we continue evolving our offerings with more powerful products and more advanced solutions, we are also growing our team. If you're looking for new opportunities, check out our career page and let's connect!"
Phil in the hotseat
As Sogolytics continues to invite great talent to the organization, here's a closer look at Phil in the hotseat.
Are you a rise with the sun person or do you hit the snooze button?
Oh, that's easy. I try to wake up between 5 and 5:15 am every day. Those first few hours in the morning are so quiet and peaceful. With the chickens, I have to [get up that early] anyway.
Speaking of chickens, how many do you have?
18. We ordered 15 originally, but got a few extra and they are really growing well and laying eggs.
What was your favorite subject in school?
I like history. You know, there's a lot that we can learn with history.
One question that should never be asked in an interview.
Stay away from politics! But, no, I'd say don't ask questions you can research on your own. Show that initiative.
What is your favorite book?
Where the Red Fern Grows. It was the first novel I ever read, and it really captivated my interest in books.
Should candidates reach out to you on LinkedIn?
Yes. Follow our process to apply, but it never hurts to message and bring attention to your application. I really love working here and being part of this team, and I look forward to them joining, too.
Powered by people
Keep up with the people behind the brand who make Sogolytics what it is today! Here's a look back at CEO Hamid Farooqui's take on tackling the new year with excitement, and an examination of what really defines success with VP of Success Melissa Krut. We also got to learn more about the progression of user interface with Director of Product Management Dhananjay Dheru, and gain a deeper understanding of our Sales Team with Director of Sales Ian Crowley. Our story continued as we spoke with our Support Team and how they deliver exceptional experiences.
About Sogolytics
If you're just getting to know Sogolytics…
Founded on the belief that better data leads to better decisions, we're on a mission to help make that data accessible to more teams. From customer experience initiatives to employee engagement and all points between, our platform enables you to collect the feedback you need to make a difference and our team has your back every step of the way. Learn more at Sogolytics.com.
Want to know more about what we do? Connect with our team today!