Happy day! If you're scrambling to keep up with the occasion, it's this: New Release Day! With the sprint model delivering fast (but not furious!) updates, it seems like New Release Day is always either today or tomorrow!
Before we head into 30.8, remember that you can always read up on previous updates first (Revisit 30.7!) or book a training call to walk through the latest. Plus, remember that options vary by account type, so log in to see for yourself or drop a note to our support team with any questions.
Love and logic 😉
Adding new logic and multiple conditions to QDL
Looking for Valentines Day ideas? No question: Logic is absolutely the best gift you could offer! We're setting you up for success with these deep updates to one of our favorite features: Question Display Logic.
We all know and love QDL as that smart functionality that allows you to ask timely follow-up questions to only relevant participants. Simply: If someone tells you that their favorite dessert is ice cream, show a follow-up question that asks them to choose from a list of available flavors. Even fancier: If someone lets you know that they've attended your conference before, include a few questions later in the registration form that ask about changes they'd like to see or why they've chosen to return.
Now, QDL gets an upgrade: Rather than just showing or hiding the follow-up question based on the answer to a single question, now you can display based on multiple conditions (different questions, different answers) and new operators (is answered, is greater than, etc.).
For example: You're planning for this year's conference and you want to ask people about the role-specific sessions they liked best last year. In this case, you first need to find out (1) if they attended and (2) what their role is. For those who attended and work in marketing, you can then ask (3) what marketing sessions they liked best. Here's how to set it up: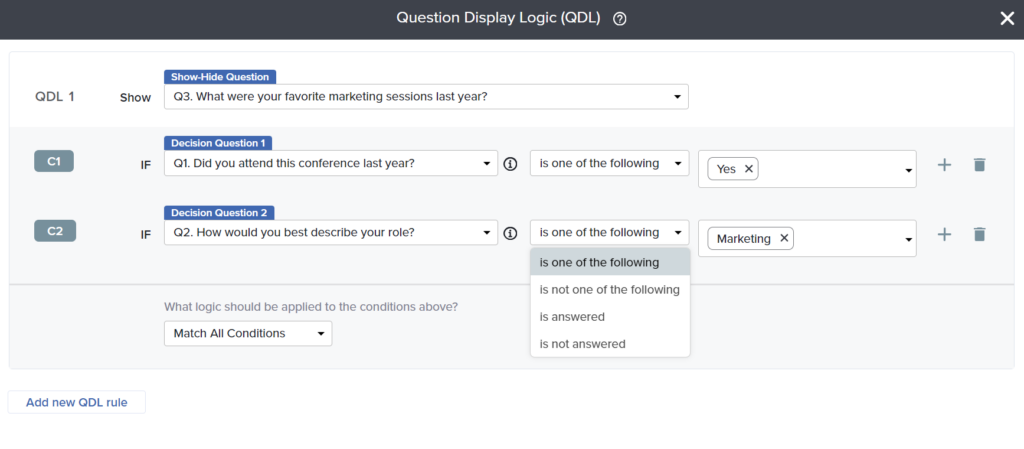 Here's how it looks for your participants:
SMS updates
Send SMS with more characters, include unsubscribe, UI updates
If SMS is your love language, you know that texting gets the job done. While sending SMS invitations might be no big deal for you by now — and you're already all about sending the same link simultaneously by SMS and email (bam!) — wait, there's more! With this release, we're rolling out a few extra SMS goodies, including the ability to send messages with more characters, addition of unsubscribe options, and UI changes to make sending even smoother.
Comparison in report-level segmentation
Expand dynamic comparison in graphs and non-percent metric tables
Dynamic comparison is just about the best thing since static comparison, and that's saying something! Wouldn't you like to know how each segment compares to the whole — all at once? This amazing functionality makes it easy to create many reports at once — through Report-Level Segmentation — while ensuring each recipient has the most relevant data sets for comparison.
As with many recent updates, we're expanding functionality in phases. Now, you'll find this dynamic comparison opportunity across graphs including Rating Scale, Smiley Rating Scale, Rating Drop Down, CSAT, CES, NPS, and Custom Metrics. You'll also see this option available in data tables for non-percent metrics.
Enhancements to translation uploads
Add/update translations through Excel – Drill Down, End & Exit, textual updates
In case this hasn't come to your attention yet, we cannot say enough about the amazing ability to import translations through Excel— such a timesaver! Monolingual survey? Use the same functionality to update your favorite editor's improvements to your questions and answers! Now, as we continue to deepen this functionality, you'll see more content options available for update through this method. In addition to questions, answers, and event messages, you'll now be able to make text and translation updates through Excel for Drill Down questions and End & Exit messages. Sweet, right?
(Not sure what that's about? Learn more about End & Exit, which is all about setting up the right flow for each participant — even if that means politely excusing them from your survey early! Again, we're all about showing the love but also bringing the logic!❤️)
And a few more…
Capture cookie data in pre-pop field for embedded surveys
Enhancements to advanced display options for embed pop-ups
Add NPS color scheme in Dimensional Analysis Report
Filter by metadata in Excel and CSV data exports
Ability to push project data into Tableau
Participation page branding footer design update
In-app textual updates for clarity
UI updates to improve usability
Security and performance improvements
Want more? Log in and see for yourself, then stay tuned — sprints move fast!