Ready to dive in to our latest release? We can't wait for you to check it out! Remember that features vary by package type, but there's always something for everyone in each new release. Check out a few highlights of Sogolytics 28.0 below, then log in to your own account and see for yourself!
Signature success
Nothing says "It's official" like a signature! The new signature question type enables you to seek permission, confirmation, or acknowledgement — perfect for affirming details on job applications or agreeing to the terms of an arrangement. You may allow participants to upload a saved image, type their name and modify the font, or simply to scribble/draw their signature freehand. Once entered, participants must confirm and save to ensure the signature is final.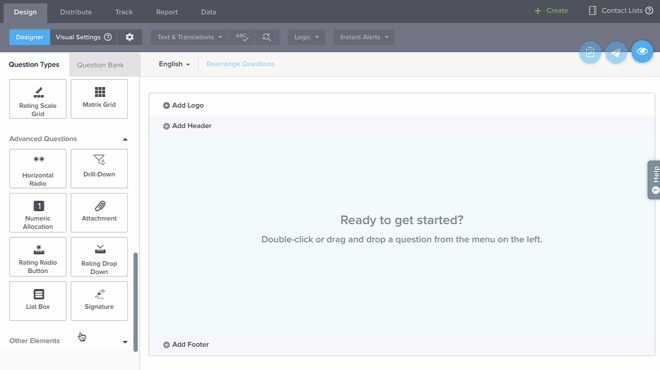 Expand the conversation
Want to hear from more participants more easily? Opt for an expanded audience through worldwide SMS invitation delivery and grow the possibilities with expanded Sogolytics API choices. Plus, improve the quality of data you're collecting by allowing participants to re-open and edit their responses — now available across all project types.
Go with the workflow
Power up your processes! Rules & Alerts gets even more attention, allowing you to trigger multiple follow-ups all from the same convenient location. Beyond simply sending an email, why not push responses to Salesforce, hit an HTTP target, or trigger a Dialogue in SoGoConnect? Plus, now you can dynamically update Contact Lists through an SFTP server, making distribution more efficient than ever. The more our platform can streamline your processes, the more time you can spend using your data to make a difference!

Score racks up more points
Have you explored Score in Omni? That small star icon packs a giant punch! Score takes all of the rating questions in your project and allows you to combine them into an overall score, to showcase scores by question, or to display scores by customized groups of questions. If your report-viewing audience wants to see the bottom line up front, look no farther than Score.
Caught up? Now, 28.0 brings enhanced sorting to scores, allows you to to split grids into questions to view scores by both overall dimension and sub-question (perfect for 360 projects — but one thing at a time!), and lets you choose to highlight data tables instead of graphs, if that's what you're into. Plus, if you're running an assessment in which you've grouped questions into categories, you can now automatically apply those categories to display as group scores. Nice!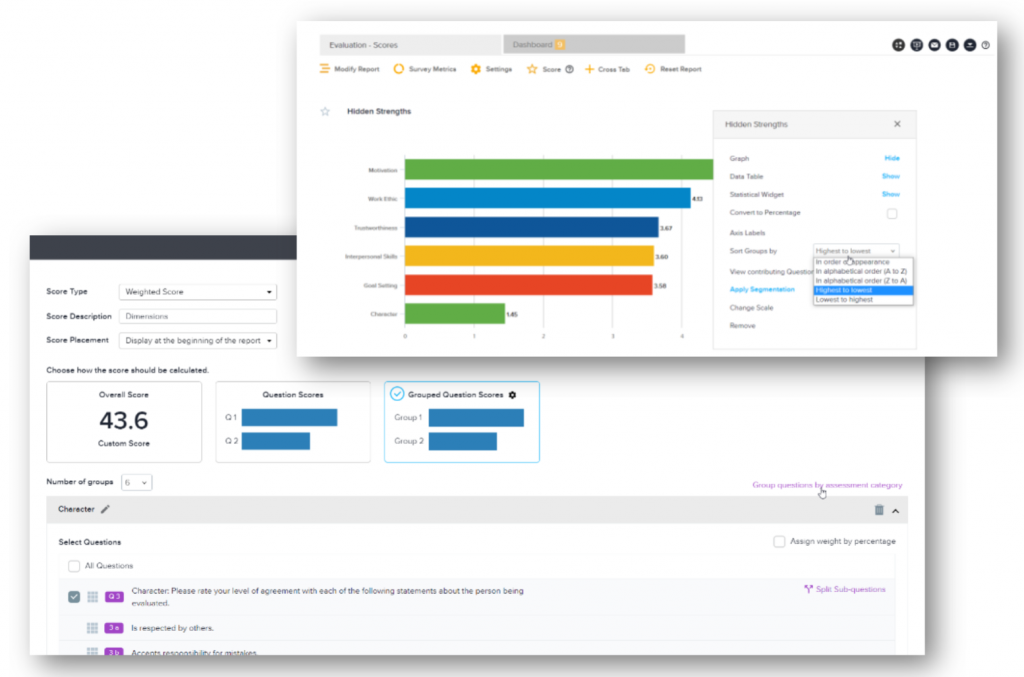 360 evaluations unlocked
Omni is the perfect report to help you get started on your next employee 360 evaluation project, and now it's the perfect report to help you streamline your customization process. Start by building the perfect Canvas with your preferred Score breakdowns, then add new Conditional Display segments that show only the data points you want. Top 5 scores? Bottom 3 scores? Hidden strengths, in which managers or peers gave a higher score than the self-rating? Blind spots, for self scores higher than those given by peers? Add your custom elements to build the perfect structure.
Then, choose to add a cover slide to each employee's report. Add a logo, custom text, and other relevant details. Plus, you may want to add more slides that provide a bit of narrative or other context about the study and its purpose. Finally, set report-level segmentation to split apart each employee's unique report. Then, email each employee their own personal link, or choose to download in PowerPoint, Excel, or — wait for it! — PDF.

The future of customer experience
A few of the 28.0 improvements to SoGoCX focus on powering up existing functionality. Love Tags? Add them in bulk or apply them to all relevant questions in a project at once. Excited about tracking metric follow-up questions? Now apply "follow-up" status to existing Text Box questions to analyze their content on the CX Dashboard!
When you're ready for time travel, new update are ready for you! With 28.0, SoGoCX brings to life two exciting options: Milestones and Predictive Analysis. Looking backward to examine the impact of important events like new product releases (ta-da!) or changes in internal processes? Add one or more Milestones to your CX Dashboard to get a better look at how — if at all — these events impacted your most important CX metrics. Ready to look ahead? Use Predictive Analysis to examine how your most significant drivers can help you to determine the best path forward. With limited time and resources, you need insights to inform your decisions, and this easy-to-use tool can help you better understand how your chosen improvements can impact your customers' experience.
And one more quick item on the subject of time travel: Import metadata along with response data and your historical data will look more beautiful than ever on all those trend graphs. Fancy!

Want more details?
Across all packages, you'll notice:
Security enhancements
Improved performance in Design
UI updates within survey embed pop-ups
Improvements within embedding questions in email templates
Omni report elements do not reset following 'Modify Report'
Like/Dislike icons added to Individual Response Report export
Grid sorting on all metric options in Omni
Cross Tab moved to Legacy Reports
Premium and above:
Touch Rules filter for Anonymous and Semi-Anonymous surveys
Edit Reminder message for Anonymous surveys
Allow re-open option under Track for all project types
Signature question type
PDF export in Omni
Enterprise and above:
Changes under Track for sub-users with limited permissions
HTTP Target XML and JSON option to push entire response
Omni CrossTab UI and performance improvements
Split grid in Omni if segmentation leads to more than 50 bars
Engagement Report textual updates
Allow request for custom URL from within account
Ability to add participation time and other metadata when importing data
Add records within list from external sources (Salesforce, SFTP)
Allow SMS invitations for all supported countries
Expanded SMS usage tracking
Insert cover page and additional slides in Omni Canvas
Allow grid splitting in Omni Score
Sort question and group Scores
Enable conditional display in segmented questions, Score options
Re-use Assessment Categories in Omni Group Scores
Allow users to push survey response link to Salesforce [add-on option]
Send SMS invitations using API [add-on option]
Expand workflow capabilities in Rules & Alerts (API, Salesforce) [add-on option]
Delete response API [add-on option]
SoGoCX package updates and options:
Assign sub-user permissions to CX projects
Improve Dashboard performance
Mark any Text Box as a metric follow-up
Simplify adding and applying Tags
Set image and display in shareable links to Saved Reports
CX metric predictive analysis
Add event Milestones to the CX Dashboard trend graphs
Salesforce app updates
Learn more!
Our User Guide is a great source for more information about our newest updates, but you can also check out a live (or recorded!) What's New? session, review our feature comparison page for the latest breakdown, and log into your own account to see for yourself! We can't wait to hear what you think! 🙂